Gameplay Trailer & Launch Date Reveal - BASSMASTER® FISHING 2022
24th Sep 2021
GAMEPLAY TRAILER & LAUNCH DATE REVEAL - BASSMASTER® FISHING 2022
Bassmaster® Fishing 2022, the Official Video Game, is launching on October 28th – and we are excited to announce that the game will be available with Xbox Game Pass from launch. And, we're also delighted to announce that today you can also check out the latest, all-action Gameplay Trailer for Bassmaster® Fishing 2022.
The game hosts a full complement of exciting new features, game modes, and mechanics. Large multiplayer lobbies, Cross Play, Bassmaster Royale, a fully licensed career mode, and lots more, is ready for you to tackle (and bring out those tackle boxes for) this October 28th. Check out all of the details below so you're ready to go on October 28th.
Become the pro
When you first jump into game, you'll be able to play as – or compete against – 10 Elite Series anglers, such as the two-time back-to-back Bassmaster Classic Champion, Hank Cherry, the 2021 St. Lawrence River Elite Event winner, Takumi Ito, or our effervescent cover-star Scott Martin.
You can play out your career just like the pros, starting out at the College Series, and battling your way to Bassmaster immortality – while using awesome branded equipment like Scott Martin's Skeeter boat with a hefty 250HP Yamaha outboard motor.
You'll be taking on multiple tournaments when you start your career. Expect Pro Challenges, Grand Slam events, and traditional tournaments (where your goal is to fill the livewell with your 5 biggest bass) are just a few of the events you'll need to conquer to make your way to the Bassmaster Classic.
Your path to Bassmaster Champion begins at the bottom: The College Series. This is where you'll start your career to get a feel for amateur tournament bass fishing. Your opponents will be learning the ropes, so expect heated competition from all manner of wannabe anglers.
Once you vanquish the College Series, it's time to bring on the big guns: The Opens. The goal of the Opens to get enough qualifying points to go to the Elite Series. If you can make it to the Elite Series level, you'll need to use everything you've learned to finally get that coveted invite to the Bassmaster Classic: the highlight on any bass angling fan's calendar.
The Bassmaster Classic is where all your knowledge and experience come into play. You'll have to put it all on the line to overcome all other competitors and become the Bassmaster Classic Champion.
Master the waters
You'll be fishing 8 real-world venues when you get out on your boat for the first time. Points of interest, water depths, surrounding vegetation, and fish species weight are just a handful of things that you'll have to look out for when fishing in these iconic venues.
You'll be fishing through dense swamps on the Sabine River, open waters on Lake Ray Roberts, or just admiring the views of the Memorial bridge at St. Johns River. Using the all-new underwater camera, you'll be able to find points of interest around the venues where you can catch some truly big bass!
Snagging is something that you need be careful of when you're out fishing – as, depending on the environment you're fishing and the equipment you're using, you risk getting your lure snagged up on all manner of underwater dangers: weeds, wood, rocks, and more.
Our dynamic time-of-day feature means you'll need to practice fishing all throughout the day to really master where the hotspots are, and where you have most success on the water for different species and locations.
The Fish AI in game move around the water depending on temperature, time of day, whether there are any underwater structures or not – all these things (and more!) are what you'll need to master & track if you want to be successful in the game.
The competition is just getting started
Bassmaster Royale is an all-new, cross-play compatible, adrenaline-pumping game mode coming to the angling genre, where you'll go head-to-head with other players to be the last player standing. To stay in the game, you'll need to keep your fish weight total above other players, or you risk getting eliminated!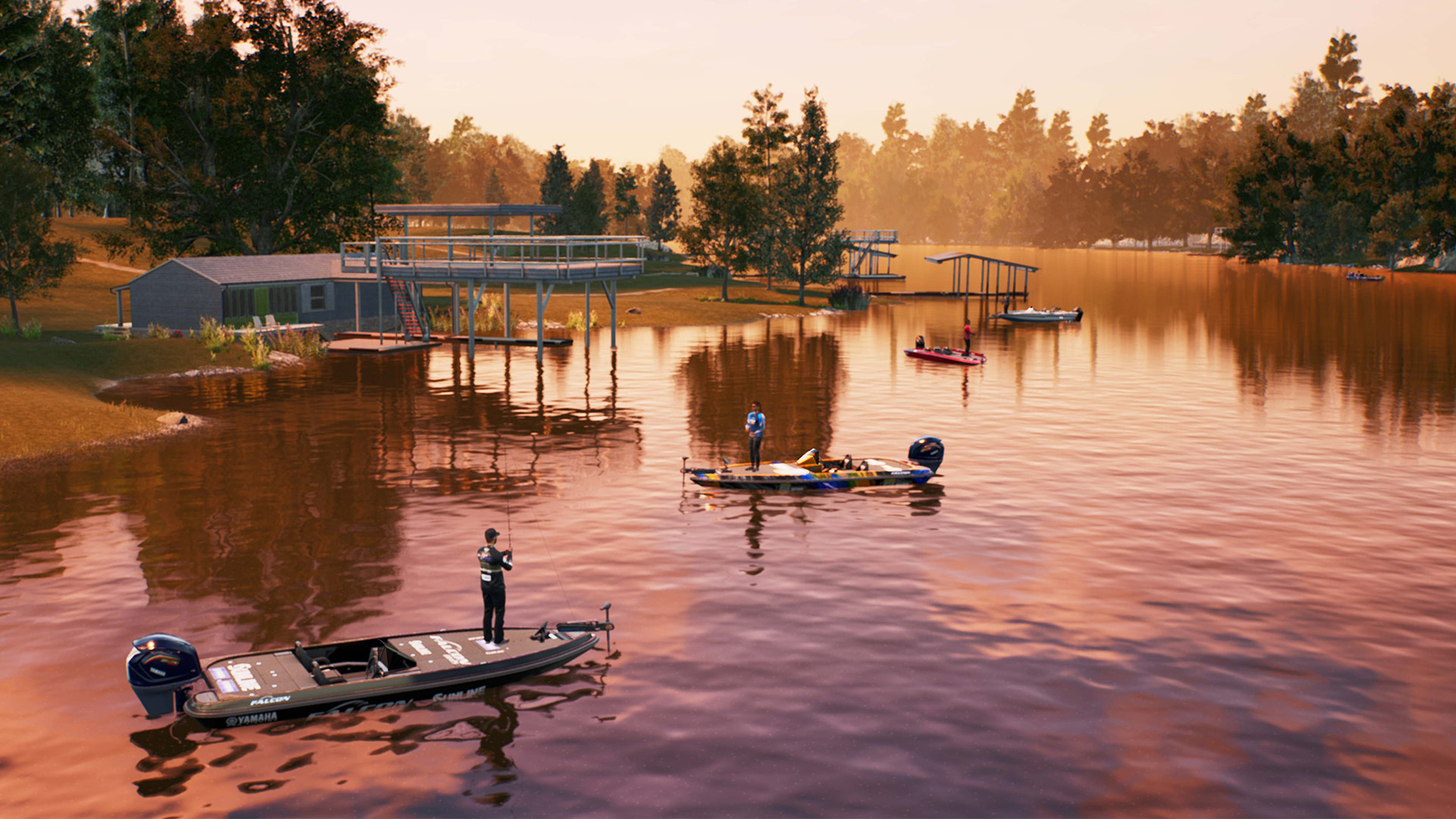 We can't wait for you to jump and start building your Bassmaster® Fishing 2022 career this October 28th. With so much to do in game, you'll be spoilt for choice on where to start!
And don't forget that after launch on October 28th, we will have loads of updates and extra content coming to single and multiplayer, so it's time to get practicing! Good luck, and tight lines!
Our products
Explore our range of simulation games